Do you need a Hotel for tonight?
A new way of travel. Get discounts to 70% for the best hotels, for the same day.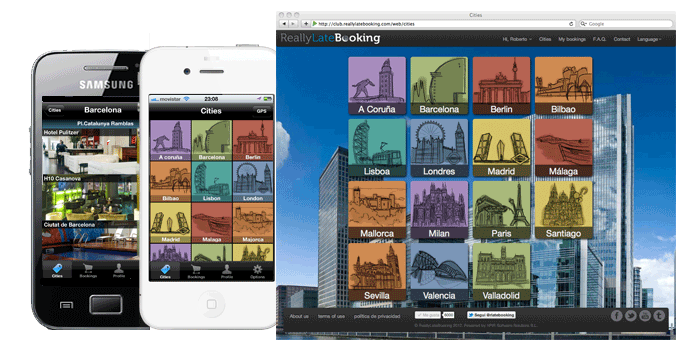 Hotels gives us their unsold rooms every day. And you can book a room in seconds, easy and secure.
Download for free our app:
Or find hotel deals at our web:
Find great deals on the best hotels in the main European cities:
Barcelone
Berlin
Brusels
Budapest
Florence
Lisbon
London
Madrid
Milan
Paris
Praga
Rome
And in many others cities of Spain:
A Coruña
Alicante
Avila
Bilbao
Cadiz
Cordoba
Costa Brava
Cuenca
Gijon
Girona
Granada
Malaga
Mallorca
Marbella
Salamanca
San Sebastian
Santander
Santiago de Compostela
Segovia
Seville
Tenerife
Toledo
Valladolid
Vigo
"It saved my weekend in London "
I lost my flight and found a hotel with RLB for the price of a hostel.
Andrés Sardá, 45, businessman
"An unforgettable day"
I had a really hard week and decided to have an improvised holidays.The RLB app gave me great choices on short notice.
Laura Estaba, 31, designer
"We booked in the taxi "
My boyfriend and I dont use to book weeks before travel. Now it's easier and cheaper to travel this way.
Emilie Dupond, 24, student
Book a room for tonight in seconds